Besiege Crafting Contest!
Type:

Crafting / Building

Game:

Besiege

Deadline:

May 16 2015

Source:

gamebanana.com

Status:

Contest Over View Winners
Recently there has been a huge explosion in the popularity of building based games, to accommodate this GameBanana now has a new
Crafting Section
where you can upload and share all your in-game creations with millions of other gamers!
To launch this new section GameBanana has partnered with Spiderling Studio's - creators of the massively popular early access game Besiege, to bring you a cool content creation contest!
You have 30 days from today to make an item in Besiege that fits one or more of the categories outlined below and upload it to the
Contest Category
on or before the deadline - 23:59 UTC on the 16th May 2015!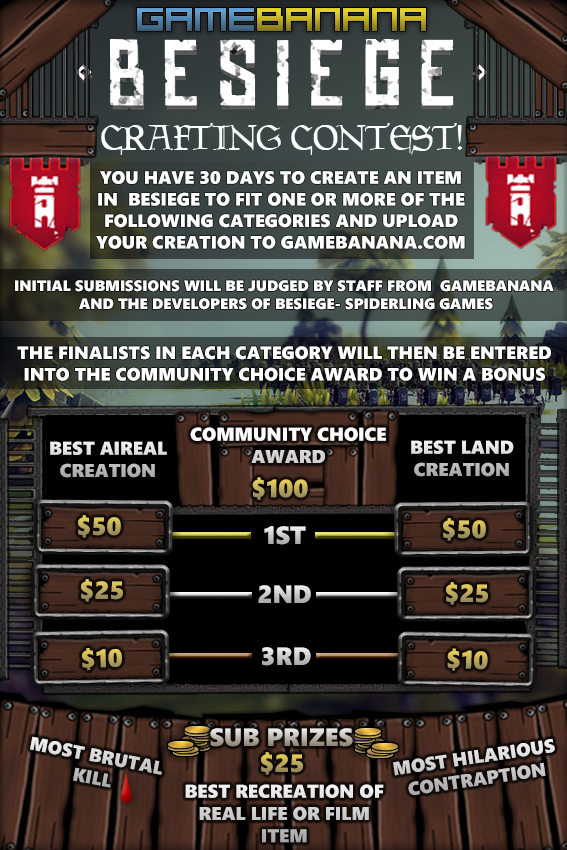 Contest Prizes
Community Choice Award: $100
1st Place Aerial: $50
2nd Place Aerial: $25
3rd Place Aerial: $10
1st Place Land: $50
2nd Place Land: $25
3rd Place Land: $10
Winner (sub-prizes): $25
Runner Up (sub-prizes): $10
Judging Process
GameBanana and Spiderling Studios will then downlaod and test all the creations and choose winners in each category who will each instantly win prizes!

However the fun doesn't stop there, each finalist will then be entered into a second round of judging to win an additional $100 bonus prize in our community choice award! (more details soon).

Contest is Over
This contest has finished and the winners have been announced! View Winners
**Contest Rules**: SUBMISSIONS MUST BE A PLAYABLE IN GAME CREATION FOR BESIGE.
ENTRIES MUST BE SUBMITTED TO THE RELEVANT CATEGORY BEFORE THE DEADLINE SPECIFIED (SEE ABOVE). - LATE ENTRIES WILL BE PENALIZED OR MAY NOT COUNT AT ALL.
THE SUBMISSION CAN USE PRE-EXISTING ASSETS SUCH AS EXISTING MODELS, TEXTURES OR ANIMATIONS, HOWEVER IT SHOULD BE A NEW RELEASE MADE FOR THIS COMPETITION AND MUST NOT HAVE BEEN PREVIOUSLY AVAILABLE FOR PUBLIC DOWNLOAD. (RESUBMITTING OLD WORK WILL NOT COUNT AND WILL LEAD TO YOUR DISQUALIFICATION!)
IT IS IMPORTANT TO RESPECT OTHER ARTISTS WORK, IF YOUR ENTRY USES CONTENT THAT IS NOT YOUR OWN, OR IS BASED ON SOMEONE ELSES WORK, YOU MUST HAVE PERMISSION FROM THE ORIGINAL ARTIST / COPYRIGHT HOLDER.
MULTIPLE ENTRIES ARE PERMITTED, HOWEVER QUALITY IS BETTER THAN QUANTITY. MULTIPLE ITEMS THAT BELONG TO THE SAME 'SET' WILL BE JUDGED TOGETHER AS A SINGLE ENTRY. EACH ENTRANT MAY ONLY WIN A MAXIMUM OF ONE (1) PRIZE.
TEAM BASED ENTRIES ARE ALLOWED AND ACTIVELY ENCOURAGED, HOWEVER THE ENTRANTS WILL HAVE TO AGREE HOW TO SPLIT ANY PRIZES AWARDED.
TO ENSURE FAIR JUDGING THE UPLOADED FILE MAY NOT BE MODIFIED IN THE PERIOD BETWEEN THE DEADLINE AND WINNER ANNOUNCEMENT. IF YOU WISH TO PUBLISH A CHANGE OR BUG FIX PLEASE DO SO AS A NEW SUBMISSION. NOTE: CHANGES TO THE SUBMISSION PROFILE (E.G CHANGING DESCRIPTIONS, NOTES OR SCREENSHOTS) ARE PERMITTED DURING THE JUDGING PHASE, PROVIDED THE DOWNLOAD FILE IS NOT MODIFIED.
YOU ARE FREE TO UPLOAD YOUR ENTRY TO ANY OTHER WEBSITE OR DISTRIBUTION SERVICE YOU LIKE, PROVIDED THAT THE FILE REMAINS FREE TO DOWNLOAD / USE WITHOUT REGISTRATION OR SUBSCRIPTION, AND YOU STATE THAT THE ITEM WAS CREATED FOR "THE GAMEBANANA BESEIGE CRAFTING COMPETITION".
JUDGES CANNOT ENTER OR ASSIST ENTRANTS.
UPON ENTERING THE CONTEST YOU AGREE ON RECEIVING YOUR CASH PRIZE VIA PAYPAL OR AS THE EQUIVALENT IN STEAM GAMES.