Serious Sam's Bogus Detour Mod Competition Contest
Type:

Modding

Game:

Serious Sam

Deadline:

Jul 21 2017

Source:

www.moddb.com

Status:

Contest being Judged View
Modders, it's time to get serious. Mod DB have teamed up with creators of the newly released Serious Sam Bogus Detour (grab it on Steam) to give you a chance to get your mod featured in the official release of the game! That is of course - if you are serious enough and I can guarantee that isn't the last pun you will see here.

So what's the challenge? Make something seriously awesome (told you). You can make a custom campaign, a horde mode style map or even Serious Sam inspired art, whatever you want - it's entirely upto you.

So there must be some serious prizes right? Right you are. 1st place mod gets eternal fame and a whole bundle of cash, 2nd place walks away with a 1080 NVIDIA GPU and 3rd place gets some logitech gear. The next 20 best mods and art submitted take home a SERIOUS SAM digital game pack, so it's unlikely any serious competitor will leave empty handed.
We want you to create either a mod for Serious Sam Bogus Detour or art inspired by the game. What you choose to make is entirely upto you, just remember if you are creating a mod the first place to start would be the excellent Hammerwatch mod tool.
How to enter
Make something seriously kickass
Add it to Mod DB (visit the contest page for details)
Make sure it's tagged with #SERIOUSMOD (both mods or artwork)
That's it! You can enter as many times as you want
You can also tweet about your favorite entries to enter a draw to win 1 of 5 Serious Sam game packs picked at random
Contest Prizes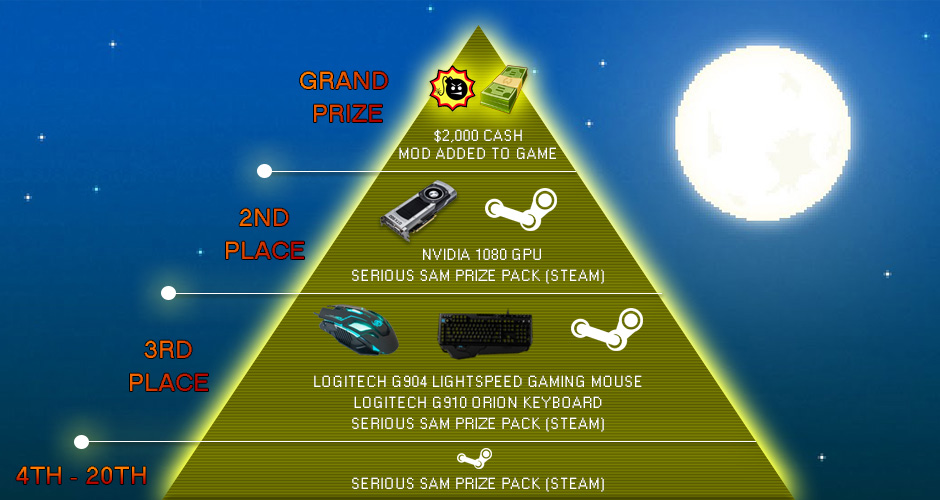 Judging Process
Judging will commence once the competition has concluded and winners will be announced a few weeks later, before August 22 2017.
Judging will be final and done by representatives from:
Mod DB
Devolver Digital
Serious Sams Bogus Detour
Entries will be judged on:
Innovation
Complexity
Creativity
Fun factor
Playability
Contest is being Judged
Hold on to your hats! The judging panel is determining the winners.
**Contest Rules**: - Your entry MUST be tagged with #SERIOUSMOD and uploaded to the Serious Sam Bogus Detour modding section or any image gallery.
- Your entry MUST be uploaded to ModDB even if it already exists on workshop.
- Your entry MUST work with the most recent version of Serious Sam Bogus Detour.
- Your entry MUST be your own work, using models or art created by other people is not allowed without their explicit permission.
- All content is allowed including fan inspired, but we shall adhere to any DMCA takedown requests and will remove content if requested by the copyright holder.
- The grand prize of your mod included in the game, will be awarded on a best effort basis. If it cannot be included for whatever reason (such as not optimized, inappropriate, based on another IP) then it won't be.
- Your entry in the art category must be inspired by Serious Sam games (past and present) to be eligible.
- You can share your favorite entries on twitter with the hashtag #SERIOUSMOD for the chance to win 1 of 5 Serious Sam Steam game packs from Devolver Digital. Sharing on Twitter does not enter you into the main competition.
- No obscene or illegal content prohibited by our terms of use allowed.
- You are allowed to participate with as many entries as you wish (they will be judged individually).
- Any submissions received after the July 22nd, 2017 18:00:00 -0500 deadline will be disqualified.
- Judges from ModDB, Devolver Digital and Serious Sam Bogus Detour will pick the winners judged on the merits of innovation, complexity and fun factor.
- Winners in both categories will be announced on ModDB before August 22, 2017 18:00:00 -0500.
- Winners must be able to supply us with their email, home address & shipping location within a week of finishing the contest, to be eligible to receive their prize.
- Any tax, customs, duties or other fees will be the responsibility of the competition participant.
- Prizes will be delivered on a best effort basis, we cannot circumvent any laws or restrictions that prevent us from delivering prizes, but will attempt to deliver digital keys of an equivalent value should such a situation arise.
- By submitting an entry, you agree that you legally represent all of the creators of the mod and that you agree to comply with all the Rules, the Terms of Use and all decisions of the Contest Judges.
- ModDB reserves the right to disqualify any entry at their discretion for any reason from the competition.
- Violation of any of the above terms will disqualify you from the competition.
- By participating, entrant agrees to release and hold harmless sponsors and their respective parent companies, affiliates, service agencies, subsidiaries, independent contractors, and the officers, directors, employees, investors, agents, and representatives of any of the above organizations from any injury, loss, or damage to person, including death or property, due in-whole or in-part, directly or indirectly, to the acceptance from or use/misuse of a prize or participation in any promotion-related activity.
- This Contest shall be governed as to all matters, including validity, construction and performance of the Contest General Rules, by and under the Laws of the Australia and the State of Victoria and the sole venue for resolving all questions related the rights of the Entrants and winners in this Contest shall be the courts located in Melbourne, Victoria, Australia.